We will be closed on Monday, December 24,
Tuesday, December 25 and Tuesday, January 1.
If you have an emergency on these dates,
please call Blue Pearl- Avondale at 623.385.4555
Please help us celebrate our ONE YEAR ANNIVERSARY!!   Please clip this coupon or mention this flyer to save $10 off examination and consultation fee for your pet during the entire month of April 2018!
This is just a reminder why we vaccinate our dogs and cats for Rabies.  It is not just protection for your pet, it is also protection for YOU and the public.  Requirements in every county and in every state vary.  In Maricopa County, in Arizona, it is a requirement to vaccinate your dog(s) for Rabies and to maintain an annual license.  It is not a requirement for cats, but it is still highly recommended.  In the last five years (including 2018) in Arizona alone (including Maricopa County), there has been several reported and confirmed rabies cases in foxes, coyotes, bobcats, skunks, and over 80 cases in bats.  Any animal can become infected with rabies….there is NO treatment for non-vaccinated pets.  Euthanasia is required in any suspect non-vaccinated pet.  Treatment in people is only effective when started immediately.  PLEASE remember to vaccinate your dog(s) and/or cat(s) for Rabies…..it is important!
February is Veterinary Dental Month.  Check out and Like our Facebook page to receive a $25 off coupon for veterinary dental services at our hospital through the month of February.
Paws for A Cause!
We are now accepting donations of dog and cat products for local rescues (KARA, Inc. & Community Paws) through December 31st.
New and gently used items would be be greatly appreciated:
Towels or blankets
Pet beds
Unopened cat/dog food
Litter
Toys
Leashes/collars
Carriers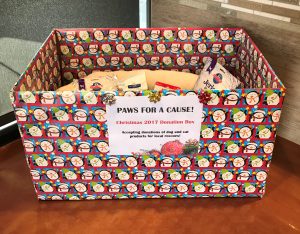 Merry Christmas from your veterinary team at Gentle Hearts Animal Hospital.
Our veterinary team wishes you all a very wonderful Thanksgiving!  Be safe and keep your pets safe! 
Just a reminder…..